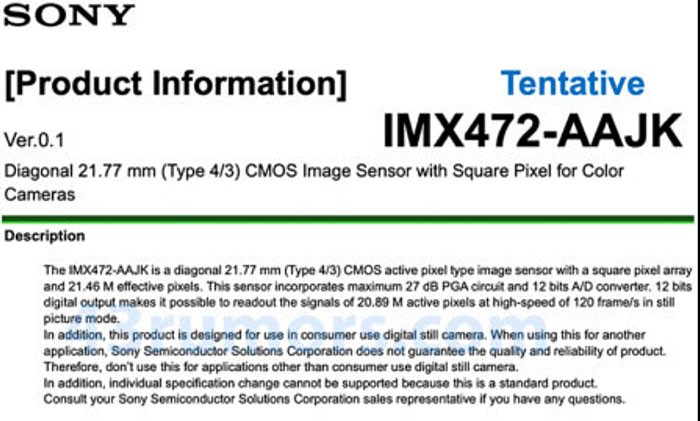 A new 20MP M4/3 Stacked BSI CMOS Sensor spotted today by Sony as well as a Brand new 40MP Fullframe Sensor is also surfaced.  Let's discuss the 20MP M4/3 format sensor first.
Sony New 20MP M4/3 Format Sensor details
IMX472-AA-JK
20.89 million pixels
Still picture mode 120 frames / s
Back-illuminated type
Laminated type
4/3 type diagonal 21.77mm
Phase difference read, HDR read
10bit / 12bit AD converter
RGB quad Bayer type
Cell size 3.3μ
121frame / s 2089,000 pixels 12bit read
The sensor resolution is 20MP and Panasonic claimed that the GH6 camera records 5.6k video. So, they will be using a 24MP M4/3 sensor for GH6.
Since this sensor is a back-illuminated sensor, we can expect improvements in high-sensitivity performance, higher frame rate videos, faster continuous shooting, and EVF blackout-free display.
The sensor is rumored to be used in upcoming Olympus cameras Olympus M1 Mark IV or maybe Olympus E-M1x mark II
---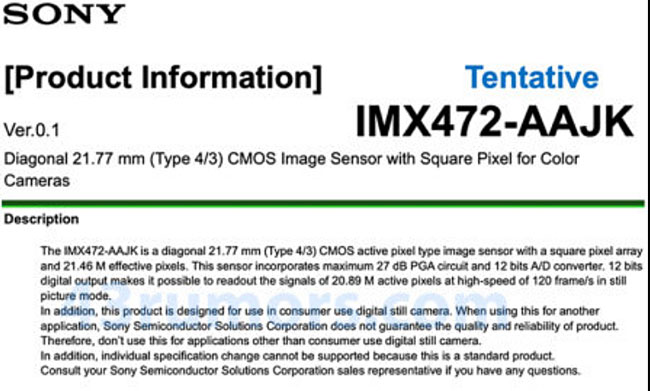 New Sony 40MP Fullframe Sensor Details
Here's the new Sony Semiconductor Exmor R full frame sensor. It has 160 million sub-pixels, can output 40 Megapixels Bayer image for normal ISP, and the 10 Megapixels or 2.5 Megapixels Omnibalance RGB image by using in-pixel binning readout for the ISP without demosaic. All output modes have a high precision 14Bit output. Therefore, it is well suited for use on large format surveillance or broadcast grade cameras.
I don't know if Sony Electronics will use it. At least I don't think there should be a new Alpha camera that needs to use this sensor. It will be in mass production in Q1 2022. Perhaps there are other companies that use this sensor for their professional products.
Possibly the new 40MP FF sensor will get used in the upcoming A7 series camera. We will post more updates soon.
Get LIVE RUMORS –> FACEBOOK | TWITTER |  INSTAGRAM to get live news — > –>see more Sony Alpha Rumor